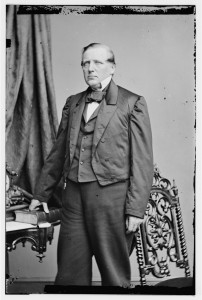 Rise & Fall of the House of Usher
By Deborah Barker
 FCHS HEADLIGHT
October 2004
 One of the early landowners of Franklin County was John Palmer Usher, Abraham Lincoln's Undersecretary of the Interior. Indifferent to African American civil rights and a supporter of racial segregation, he devised a scheme to accommodate former slaves on land confiscated from Texas. However, the plan was rejected by Abraham Lincoln.
On 8th  January, 1863, Lincoln selected Usher to replace Caleb Smith as his Secretary of the Interior. Lincoln had not been impressed with Usher's abilities but needed to keep the support of the Republican Party in Indiana. Over the next two years Usher championed the gathering of Native Americans on reservations in the Southwest. He was guilty of making political decisions that helped his fellow shareholders in the Union Pacific Railroad Company. A strong opponent of the Radical Republicans, Usher constantly warned Lincoln that Salmon Chase was after replacing him as president. Lincoln's need for Usher in the Cabinet came to an end when Henry McCulloch, a fellow Republican from Indiana, became Secretary of the Treasury.  Lincoln sacked Usher but he did not leave office until the arrival of President Andrew Johnson.
After leaving the Cabinet Usher worked as chief counsel of the Union Pacific Railroad. Through that connection he was able to purchase 2,000 acres of railroad land in 1866, including his lands in Franklin County. The Usher family, including four sons, moved to Lawrence in 1867 to live in a large stone house at 1425 Tennessee, now a fraternity house. John Palmer Usher died in 1887. The ranch west of Pomona was operated by resident managers and in 1913 sons John and Sam moved to the Franklin County ranch. There they built a stucco house and raised cattle until their deaths. After that, son Linton (the only son to marry) and his wife moved to the ranch. He died in 1952 at 99 years of age, at which time the ranch was sold out of the family. It is now known as the Judd Ranch.
We have recently been given a set of books of John Palmer Usher's which bear his signature. They include a set of Alexandre Dumas' novels and one of Charles Dickens. They are currently on display in the Victorian parlor at the Old Depot Museum. We enjoy maintaining that exhibit as an exclusively Franklin County collection of artifacts, and the Usher books will be right at home.