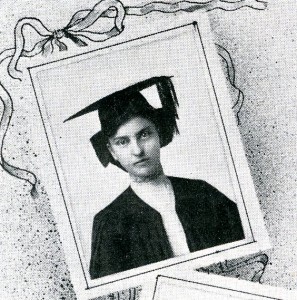 Photo from The Sagamore (1907 yearbook)
Lulu Marie Brown was born on October 30, 1885, in Ottawa to Newell Samuel and Emma Kellogg Brown. Mr. Brown came to Ottawa from Hartford, Connecticut and established a real estate and loan agency in town. Lulu was the youngest of three children, having two older sisters, Florence and Gertrude. Lulu graduated from Ottawa High School in 1903. When Lulu became a student at Ottawa University, she joined the Philalethean Society and was elected vice-president of her junior class of 1905-1906 and was the president of her senior class of 1906-1907. Lulu received an A.B. degree from Ottawa University in 1907.
Lulu Brown taught Latin and German at Osawatomie High School from 1907-1909. She began teaching Latin, English and History in the Academy at Ottawa University in 1909 and served as faculty sponsor of the YWCA on the campus. She continued her studies at the University of Kansas, receiving an A.M. degree in 1914 and also did further graduate study at the University of Washington and the University of California.
She became principal of the Ottawa University Academy in 1914 and served in that position until its closing in 1925. In 1918-1919 her salary as principal of the Academy was $1000. At the closing of the Academy, the Trustees expressed their gratitude "for the devotion of the principal to the work of the Academy, never losing sight of the highest ideals of the institution of which it was part. For her patience, persistence, and kindness we express our appreciation". (Haworth, 1957,p.77). From 1925 – 1954 Miss Brown taught in the college's Department of English. At her retirement celebration, a verse was sung to the tune of the "Battle Hymn of the Republic" in her honor: "Since nineteen hundred and nine a record faithful strong and true, if not in class, in conference, she tried her work to do, she counts her friends in thousands, through her their faith renew, Miss Brown of old OU" (Haworth, 1957, p.142).
According to an interview done with a former student of Brown's at Ottawa University, she was considered an excellent teacher by her students. Lulu was not chummy with her students; she was respectful of them by calling them Mr. and Miss. Brown Hall, one of the residence halls at Ottawa University, was named in Lulu Brown's honor. Lulu was a member of the Westminster United Presbyterian Church in Ottawa, the Retired Teachers' Association, Chapter AU of P.E.O. and Alpha Gamma Chapter of Delta Kappa Gamma. She was secretary of the OU Alumni Association for several years. She lived in Cedar House Nursing home in Ottawa from December 1971 until her death at the age of 88 in 1974. Lulu Brown is buried in Highland Cemetery in Ottawa.
The 1949 Ottawan (yearbook) has this Dedication:
To Miss Lulu Brown….Doctor of Pedagogy….orientor of freshmen….introducer to Greek tragedy….originator of "honors" English….has loved and been loved by Ottawa since 1909….godmother to Cottage girls….O.U.'s guardian angel….she has earned her heritage.
References
Findagrave.com – http://www.findagrave.com/cgi-bin/fg.cgi?page=gr&GSln=brown&GSfn=lulu&GSbyrel=all&GSdyrel=all&GSst=18&GScnty=913&GScntry=4&GSob=n&GRid=35515454&df=all&
Haworth, B Smith. 1957. Ottawa University: Its history and spirit. Kansas: Ottawa University.
LePage, S. M. 1929. Ottawa: A short history. Kansas: Ottawa University.
Obituary of Lulu M Brown. 1974. Ottawa Herald, July 25, p. 3.
Ottawa University Bulletin. 1901-1905. Kansas: Ottawa University.
Ottawa University Bulletin. 1907-1914. Kansas: Ottawa University.
Ottawa University Bulletin. 1915-1929. Kansas: Ottawa University.
Note: Additional materials relating to Lulu Brown are in the Archive.  Type her name in the Archive search box to retrieve them.